Endometriosis and Hysterectomy





Is hysterectomy a guarantee for removing endometriosis?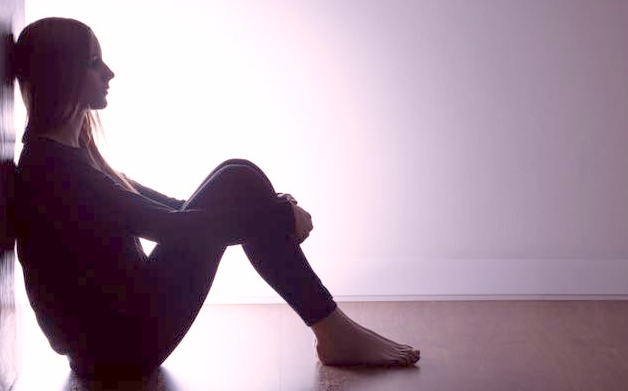 For many women, a total hysterectomy is advised by their doctors if they have severe endometriosis. These women are hopeful of gaining relief from the pain and symptoms of this disease.
This advice is fueled by the thinking that if you remove the diseased organs then you will remove the disease. Unfortunately this is not always the case - as the personal stories below will highlight.
It is known that the implants and the evidence of Endometriosis can be found all over the pelvic cavity. So removing the uterus and ovaries will very often leave some of the disease behind.
During surgery  surgeons will attempt to remove the disease which is scattered around the pelvic cavity, as well as removing the reproductive organs. But even so this can still leave undetected or microscopic implants behind.
Some women as young as their early 20's are opting for a Hysterectomy as a means to gain relief from Endometriosis. It is doubtful whether these young women are aware of the possibility of a return of the disease. There is also the problem of dealing with a surgically induced menopause at such a young age.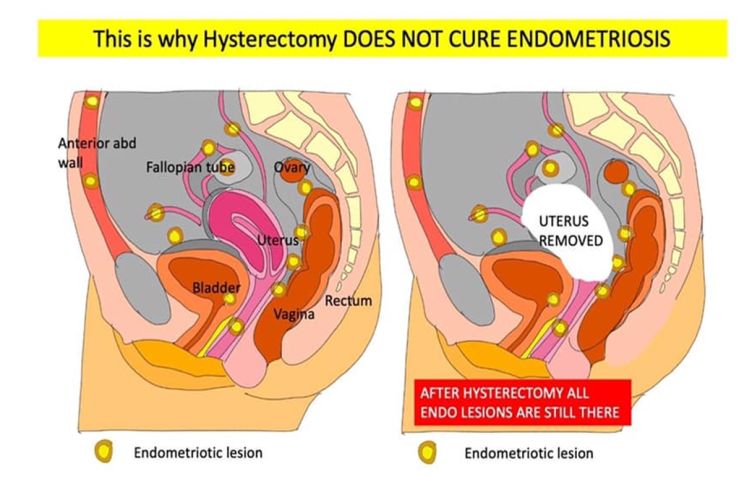 Drug treatment after hysterectomy
In most cases where a woman has had a total hysterectomy (removal of uterus and ovaries), they are given hormone replacement therapy (HRT). These hormone drugs are known to cause various side effects.
The side effects of HRT include: possible weight gain, breast tenderness and headaches .. More serious risks could include an increase in the risk of some estrogen dependent cancers, such as breast cancer.
There is also the possibility of developing deep vein thrombosis, and f inally, it is possible that the risk of developing gallstones  may increase when taking estrogen only forms of HRT, particularly in tablet form.

Taking HRT treatment could encourage endometriosis to flare up again because the estrogen in the hormone replacement therapy could feed the disease implants and growths.

This type of hormone replacement therapy is prescribed to replace the hormones that are lost because of the removal of the ovaries. This begins to turn into a vicious circle. So hysterectomy seems not to be the answer for Endometriosis no matter what stage the disease is at.
The various types of hysterectomy include:

Why is this situation allowed to continue? There are many  gynaecologists and surgeons  who are  taught that the only way to obtain some sort of 'cure' Endometriosis is either through pregnancy or menopause.  So drugs are prescribed to try and induce a woman's body into a state similar to pregnancy or menopause, and if that does not work, then cutting out the diseased organs is the next route.
Firstly the 'cutting out' is done by remedial measures to try and surgically remove the growths, lesions, and implants. As a last resort, all reproductive organs (uterus and ovaries) are taken out. 
Endometriosis after surgery
If you are suffering with Endometriosis which is severe and have been advised to have a hysterectomy, then please be advised that this may not be the correct path to take. This may not remove the symptoms. It is not a guarantee to remove the disease. It is not a guarantee to stop the development of the disease.
So why go through the risk of such a serious procedure? There are many women who have gone down this path to try and be rid of Endometriosis, only to see the disease return.
The alternative here is to improve your general health so that you have a better chance to fight this disease. This will enable you to keep your body intact, maintain your reproductive function, and retain the natural chemistry and balance of your body.
References:
endometriosis.org - endo and hysterectomy
Pubmed - recurrence of endometriosis after hysterectomy
Have you had a hysterectomy because of endometriosis?
Why did you choose to have a hysterectomy? Has endometriosis returned since your operation? Would you still have a hysterectomy today? Share your own personal experience.
What other women have said
Click below to see contributions from other women at this page...


As featured in: