Affiliate Program for endo-resolved

You have the opportunity to earn commission by promoting the books from endo-resolved.   At the same time you can be helping other women with endometriosis by recommending the books which provide advice about nutrition, diet, and using natural remedies to help manage the disease.  The books have already received plenty of positive reviews.
This is an opportunity to earn at your own pace, in your own time and to be flexible around your symptoms. 
How does the Affiliate program work?

The program is free and simple to join

Commission paid is 30% for each sale of each book sold

Cookies from your affiliate links last for 3 months

You will need a Paypal account to receive payment you have earned

Payment is made as soon as your earnings reach $20

There is a 'Payment delay' time of 2 months in case of refunds -

none have been issued yet!

When a user clicks on your affiliate link they will be sent to our website and their activity will be tracked by our third-party affiliate software

The commission of 30% is fixed and this is much better than the affiliate commission you would earn at Amazon which has recently been reduced with average earnings set at 3 to 4%
How to apply
You will need to sign up for an Affiliate account which is VERY simple and quick
To sign up you just need 2 things: Your name, and your email address linked to a Paypal account for payment - that's it
You can sign up HERE
How to promote the affiliate program
1   You can use the links provided on your own endometriosis blog or website.  Or else you can promote the books at your own social media page.
2   Your affiliate links will be provided once you are signed up.
3   Adding book cover images will help to improve your promotion efforts which you can download below.
4   It will really assist your promotion if you have read the book so that you can provide a valid and honest opinion of the book - you will be provided with a link to purchase the books for a special offer of 40% discount (just for affiliates) - details sent after signing up. 
5   This affiliate program is for the e-book versions of the books only.  The paperback versions are available at other channels, including Amazon but you will only earn commission on the e-book versions.
Book cover images you can download - click for the larger image, then right click on the large image and 'save' 
You can use the images on your own website, blog or social media pages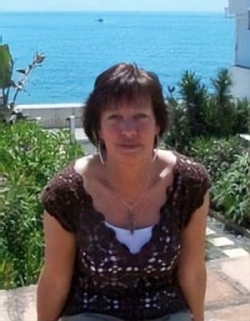 About the Author
My name is Carolyn Levett, the Founder of endo-resolved - I am an Integrative Health Coach having studied nutrition, naturopathy, aromatherapy  as well as being a published author. I used to suffer from severe endometriosis and was able to regained my health and heal from the disease with the support of nutrition and natural therapies.
My motivation is to help other women with endometriosis to heal their bodies so they may overcome this awful disease without having to rely on toxic drugs and surgeries which can cause further damage  -  with healing thoughts, Carolyn.