'Endometriosis – Healing from the inside out'
YOUR GUIDE TO HEALING AND MANAGING ENDOMETRIOSIS THROUGH GENTLE NATURAL THERAPIES
Available for immediate download 
This motivational book covers the following topics:
An account of my own healing journey and how I recovered from endometriosis

Many anecdotal stories from others who have healed to give you motivation

Details of different natural therapies you can use to help reduce your symptoms and heal your body

Advice of how to treat any gut health issues which may be causing your endo belly so you can get relief

In-depth advice about nutrition, supporting your liver, detoxing your system from excess estrogens - all of which will help reduce your symptoms

Practical and manageable solutions to problems including insomnia help, natural pain relief, constipation relief, help for anxiety and depression 

We even look at some creative ways to help with your financial issues

Details of the toxins you need to get out of your system to help your healing

Advice about supplements for pain, reducing estrogen, supporting your immune-system, tips for gentle exercise

Recipes to make your own cheap house-hold cleaners

Amazing facts about the immune-system and how it can support your healing

A collection of yummy recipes to help you get started with an anti-inflammatory diet

You even get a recipe for making your own CBD suppositories which are much cheaper than having to buy them!

Plus so many more tips and motivational support woven through the book -

written with i

ntegrity, and backed up by research 
Bonus e-book with your purchase
Get a dose of Inspiration ….
When you purchase the book  you will get a FREE copy of:
'Endometriosis Success Stories' over 100 pages of stories that have been sent to the website over the past few years of success stories using natural therapies and nutrition to help manage endometriosis
Price: $12
Order now - pay with Paypal or credit card:

Based on personal experience combined with training in natural therapies, plus working with women who suffer from endometriosis – this book offers a comprehensive guide to help you heal and manage endometriosis with safe natural therapies.


'Thank you for writing this book. It has given me so much faith that I will be able to beat this disease. It has provided a real eye-opener of what may have caused my endo, which has always been distressing for me as no-one in my family has had it. The wealth of advice of all the things I can do to help myself is worth the price of the book alone, and the motivational messages and the stories of other women who have healed really gives credit to your message. Thank you'
Jilly, Arizona, US

'I was diagnosed with endometriosis over 5 years ago. I have had 2 laparoscopies with lots of surgery to clear the endo, and tried various drug treatments, but the endo kept returning. After reading your book I decided not to continue with any more drug treatments - they always made me feel so awful. And what was the point, the endo was still there.
I changed my diet - started seeing improvement within 2 weeks, and after 2 months my endo pain was almost gone, just a bit of pain with my period. I also started seeing a Naturopath about 6 months ago. I felt a bit worse at first as my Naturopath put me on a detox program to get rid of any residue in my system from all the drug treatments. But I am now seeing gradual improvements. My general health and stamina are improving as well as feeling so much better emotionally.'
Amada, Bristol, UK

'The honesty of the advice in your book gave me a real belief that I could get my own health back. I used to feel awful with lots of pain, no energy, low grade fevers, miserable and depressed and with no hope. If I feel myself slipping back, I just have to read the excellent summary messages at the end of your book and I feel full of optimism and ready to fight back. Thank you for your honesty, for sharing your own story of dealing with endo, and for writing this book which I feel has been a life saver for me.'
Claire, Cambridge, UK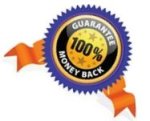 Refund Policy:
With your purchase of Recipes and Diet Advice for Endometriosis – Kindle ebook, you are assured of a prompt refund via Amazon if you are not happy with your purchase. 
This same refund policy applies when buying direct from the site too. To date there has not been one refund request and it is hoped that you too will be totally happy with the advice and recipes in the book.

As featured in: