Ideas to help you earn money when  dealing with endometriosis
Suffering from a serious disease like endometriosis can cause many hardships, and one of those is the problem of trying to hold down a job when suffering from pain and fatigue, and the many other symptoms that endometriosis can cause.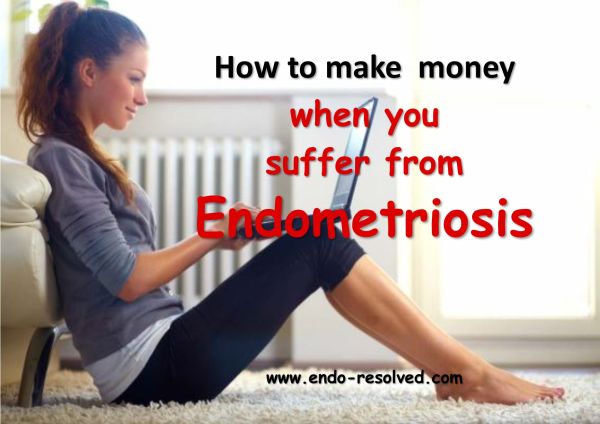 Many women have to stop work altogether while others are able to manage reduced hours and work part-time.  This obviously causes financial difficulties, and if you live in country where you have to pay for medical treatment then this can make matters even worse and can lead to increasing debt as well as added stress – just when you don't need any more stress.
It often becomes necessary to cut back on things that many take for granted.  Like being able to afford a few little luxuries like having a haircut, treating yourself to a glossy magazine or buying those shoes you have seen in the sale.  Being in this situation increases the stress that is already felt by being so ill. 
Solutions to help earn an income
Instead of getting into more debt by borrowing money from family and friends – or even worse, by getting a loan with unfavourable interest rates – you may need to look at other more creative ways to earn some money.
The internet is a good place to start as there are many companies that have set up schemes to facilitate remote working, which means you can work from home.  So when you are having a bad flare day with endometriosis you have the opportunity to take it easy without it affecting your work.
There are many other ways you can earn money from the comfort of your own home and in your own time thanks to the internet.  There is no need to be going into an office or workplace to be able to work.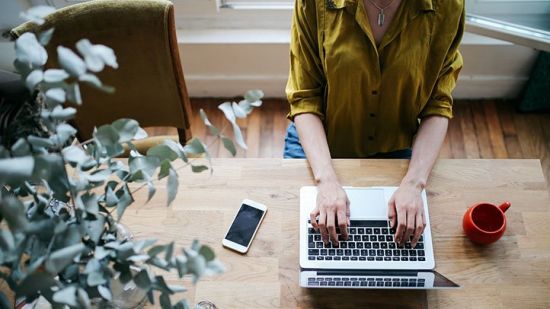 Start a Blog
Many people start blog pages purely for the pleasure and interest in building a personal website.  You can also build a blog website to earn money by focusing on specific subject and then promoting products to your subject matter with affiliate recommendations. You can also include Google Adsense, sponsored posts and sponsored ads.
To be successful you need to write something you are passionate about.  This will help you write your content with enthusiasm and commitment.  Your writing will be more honest, rather than trying to write about a topic you know little about which will leave you floundering trying to write good content.
You could build a blog about a hobby or a skill you have from your past career.  It could be about cooking, sports, book writing, a health subject you know a lot about.  Your blog could even be about endometriosis and offer advice and tips that have help you.
You need to make your blog unique and stand out from other blog pages.  Even the visual design of you blog can get you noticed.  The name of your blog/website needs to memorable too. The choice of the name here at endo-resolved was chosen to be short and easy to remember. 
To start your blog you need a hosting service and it better to go the route of getting hosted rather than a free blog service as this will help your site get found much better.  There are lots of hosting services out there.  Many of them support Wordpress to be integrated into their service, which has many useful tools and is free. 
If you want a ready designed slick website there are many themes you can buy which you can customise to suit your topic.  There are lots of lovely designs ideas HERE at Studiopress
You will find many tools and tips and advice online about how to start a website, the best ways to do blogging to get found, and many more ideas to get you started.  The design of you site can speak volumes and will help get you noticed.  Then if you add brilliant well written content you are on your way to success.
Social media manager
If you have good skills and knowledge of social media you could manage the platform for others.  You need to be familiar with Facebook, Twitter and Instagram and enjoy marketing.
This is a job that is easy to do from a laptop while at home. What is really helpful is that you can schedule your work in advance so if you are having a bad day with your endo symptoms you do not need to worry about being expected to work. 
There is a great article about how to become a social media manager HERE
Produce and sell an Ebook
Just like a good blog or website, writing an ebook needs to be about something you know.  Writing books that can help solve problems for people are very popular and sell well.  Your ebook could be linked to the topic of you blog.  Most ebooks are produced as a pdf and are easy to download.  You could also turn the ebook into a Kindle version and sell it on Amazon.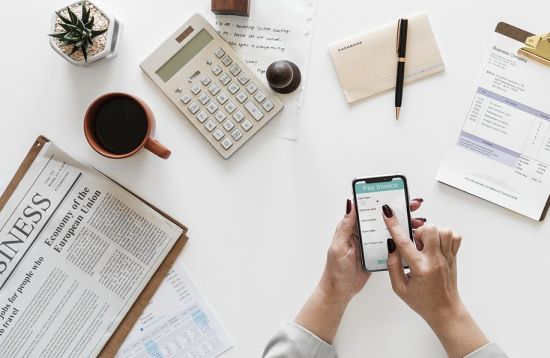 Website design
This is another job you can do at home in comfort with just a good quality laptop or computer. If you are already experienced at website building you could get paid for building websites for others.  Building website these days is much easier than it used to be because there are ready made design packages you can buy and then customise it for your site content. 
There are plenty of tutorials online to help get you started – and its not rocket science.  The more jobs you do the easier it will get.  It is not necessary to pay for advice about website building because there is so much free advice out there. Here is a good place to get tutorials and advice about website building
Paid surveys
These schemes have been around for some time.  Ideally you need to sign up for several programmes to increase your chances of being offered surveys on a regular basis.  Some of the schemes offer gifts cards while others pay with cash.  Just do an online search and you will find plenty of survey schemes you can join.
Fiverr – get paid for your technical skills
This is a great way of doing little jobs online by request at Fiverr. You offer your services and wait for people to buy your service.  Most of the skills being sold are graphics work for website, book cover designs, proof reading, book editing, book formatting, kindle formatting, drawing images, taking specialist photos and so on.   It's a great way to earn some money at your own pace from home.  You can pop over to Fiverr HERE and get some ideas of what others are doing to earn money.
Online tutoring
Before the internet it was not possible to do teaching remotely, but now with skype you can teach anywhere in the world.  If you have a skill or teaching qualifications you can now pass on your skills.  You can teach English or other languages to people the other side of the world with Skype. Do a search online and you will find plenty of agencies offering teaching jobs.
Content writing
There are certain websites and blogs that pay for others to write articles for them.  Some of them pay good money for each article, which can range from $20 to $100, even more in some cases.  There are magazines that will pay as much as $500 per articles. If you have a passion for writing this is a good way to earn money. 
You may find health websites or magazines that are willing to accept stories about endometriosis, which gives you the opportunity to help raise awareness of the disease.
Craft sales
Are you creative and love making things?  You could turn your creative hobby into a business.  Many people have done it.  Etsy is a specialist website that caters especially for people to sell their crafts.  It could be hand-made soaps, hand knitted items, up-cycled clothes, hand-made jewellery – whatever your craft and skill, you can make money from doing something you enjoy. 
These are just a few ideas of how you can earn some money when trying to cope with endometriosis.  The benefits of working from home gives you that flexibility you need so that you can work around your symptoms.  When you have a bad flare day with endometriosis, doing any work is the last thing you want to do. 
Working from home you have the option to pick and choose when you want to work and when your symptoms let-up you can increase the amount of work you do.  With some of the ideas above you can increase your flexibility and your income by signing up to a few schemes.  

As featured in: