Endometriosis and multiple surgeries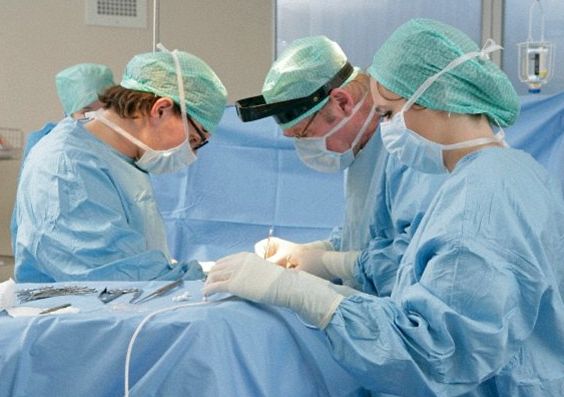 It is not uncommon for women with endometriosis to have multiple surgeries to remove the disease.  In some cases, women are having repeat surgery within a year as the disease and symptoms of pain have returned.
Quite often this situation arises because the surgeon was not experienced in performing surgery for endometriosis.  This disease can be prolific and unless the tiny microscopic particles of the disease are removed it can easily return and continue to grow.
A team of researchers from the Universities of Aberdeen and Edinburgh analysed data on 281,937 Scottish women who had undergone laparoscopic surgery.
Dr Lucky Saraswat, Consultant Gynaecologist and Honorary Senior Lecturer at the University of Aberdeen who led the study, said:
"Our study shows that women with the condition (endometriosis) have a higher risk of repeat surgery, including hysterectomy. This is usually carried out in an attempt to improve painful symptoms and infertility that associated with the condition. Greater awareness of the long-term risks of multiple surgical procedures can be useful in counselling women with a new diagnosis of endometriosis and enable them to make timely reproductive choices."
The research concluded that women with endometriosis were at 69 percent higher risk of having additional surgery than women without endometriosis. In addition, the risk of women with endometriosis having additional surgery was more than triple that of women who had had laparoscopic sterilization, and 5 1/2 times higher than for the controls.
As well as laparoscopic surgery to treat endometriosis, many women end up having a hysterectomy in the hopes of gaining relief, with many being quite young when choosing this option.  This is a heart-breaking situation resulting in very early menopause and all the problems this can cause.
It is now being advocated that the most success surgery to remove the disease is excision surgery which removes the disease with sharp instruments or lasers.  Some surgeons use ablation surgery which burns the tissue using heat or lasers.  There can be complications with ablation surgery as it can damage adjoining tissue and less precise than excision surgery.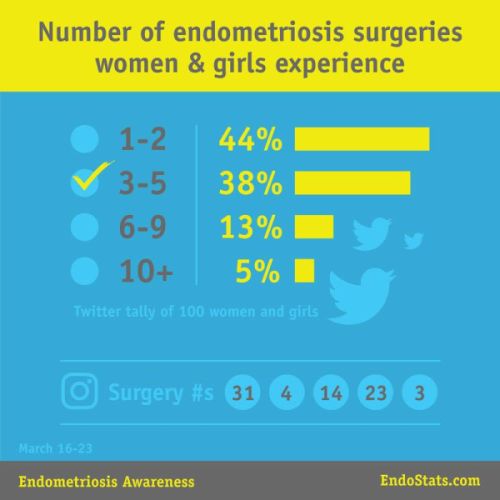 Image from EndoStats
Number of surgeries as reported by those with endometriosis
Below is a selection of comments from women on the number of surgeries they have had for endometriosis:
"I have had 3. 1 ablation surgery and 2 excision surgeries. I might have another sometime soon."
"I've had 7 for endo from 2011-2018. In need of another now."
"8 to 10 surgeries - lost count"
"8 surgeries and my first was when I was diagnosed back in 2005"
"4 starting at age 28 ended with complete hysterectomy when I was 37 (so 5 all total)"
"23 surgeries ... getting another one December. First one was when I was 26. I'm 30 now. Also had a partial hysterectomy"
"10 starting in 2013"
"12 going in on the 13th for my 13th.. Started in 2013"
"First surgery when I was 19. Had surgery about every six months between 19 and 23 had hysterectomy at 23. Then had probably another 10 surgery's after that so that would approx 21 surgeries."
 "7 booked in for number 8 but have moved it till next year as I don't think I can be bothered anymore."
"I was 16 when I had my first, I'm now 34 and had my 11th excision lap last week"
"15 laparoscopic and 2 fully open"
"Surgery number 18 for endo on my liver looming!"
"56 surgeries from the age of 19 thru 49. Endo and then severe adhesions after my hysterectomy. It affected my bowels, bladder, kidneys, appendix etc etc. it grew so rapidly in my body I had no choice but to have multiple surgeries a year until it finally slowed down. Now I can go 2-3 years in between surgeries. It is a horrible and life changing disease!"
"5 surgeries in 11 years between removing endo and ovarian cysts... Hopefully my last will be in a few weeks - hysterectomy with bowel resection."
"6 including my hysterectomy almost 4 years ago. At the age of 27"
"7 and my 6th was a hysterectomy 5 years ago. I'm scheduling my eighth. still have to have scar tissue removed every few years."
"20, including having my kidney taken out because of endo, and a hysterectomy"
"I had 12 including a hysterectomy at 28"
"I've lost track really, I think 12, and my next will be a week from today."
Looking at these results it seems clear that for many, surgery does not provide long-term relief from this disease.  Even those who have opted for having a hysterectomy very often find that endometriosis can return, as reported HERE
There are times where hysterectomy has proved successful for continuing relief for some, but from feedback here at endo-resolved and responses elsewhere, this situation is not commonplace.
Due to surgical and drug limitations and the nature of the disease, endometriosis can be hard to treat and provide successful outcomes.  For this reason, many are opting to try alternative and natural methods to manage their health. 
Using natural remedies, diet and lifestyle changes, combined with surgery from an endometriosis specialist are all important tools to help manage the disease.  Endometriosis is a whole-body disease and as such the whole body needs support.
https://www.rcog.org.uk/en/news/over-60-of-women-diagnosed-with-endometriosis-go-on-to-have-multiple-surgical-procedures/
 https://www.ncbi.nlm.nih.gov/pubmed/28952173
 https://endometriosis.net/clinical/ablation-excision/
As featured in