Endometriosis support groups around the world
Many women with endometriosis have found support from talking to others with the disease, especially through online support groups. It has helped them learn from their experiences, understand treatments and coping methods, and subsequently get a better understanding of endometriosis.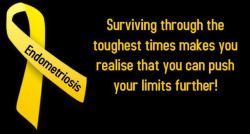 Most women feel totally isolated and alone when they are first diagnosed. But when they find there are millions of others around the world who also suffer this dreadful disease, their isolation is greatly reduced as they know there are many others who are suffering just like them. 

There are support groups in many countries, and they are there to support, advice, and provide information for women with endometriosis and their families. Here is a list of support groups for different countries around the world: 

Global Support 

www.endometriosis.org - the global forum for news and information. 

The website serves women across the world, is updated with news about support groups and research on a monthly basis, and has peer-reviewed information about treatment for endometroisis, as well as a long list of articles written to support women with endometriosis. 

It also hosts the ESHRE guideline for the diagnosis and management of endometriosis. 


Argentina 

Endometriosis Group Argentina
Av. Santa Fe 1675 2º A CP 1060 
Capital Federal, Buenos Aires 
ARGENTINA 
t/f: +54 11 4815 4802
infoendo@fibertel.com.ar
www.endometriosisgroup.com.ar 


Australia

Endometriosis Association (Qld) Inc
PO Box 39
Red Hill
Queensland 4059
AUSTRALIA
www.qendo.org.au 


Austria 

Oesterreichische Endometriose Vereinigung
Obere Augartenstrasse 26-28 
1020 Wien 
AUSTRIA 
t:  +43 (0)676 4447344 
office@endometriose-wien.at
www.endometriose-wien.at 


Brazil 

ABEND - Associação Brasileira de Endometriose
Rua Claro de Camargo Sobrinho, 89
Vila Pouso Alegre – Barueri 
SP Cep 06402-050 
BRAZIL
t:  +55 11 4198 7456
f: +55 11 4163 5086 
abend@abend.org.br www.abend.org.br 


Denmark 

Endometriose Foreningen Denmark
Kvorupvej 1, Åsted 
DK-6800 Varde 
DENMARK
t:  +45 2172 4300 
f: +45 7525 4455 
info@endo.dk 
www.endo.dk 


Finland 

Endometrioosiyhdistys Finland
PL 142 
00531 Helsinki
FINLAND 
t/f: +358 (0)50 380 6715
endo@endometrioosiyhdistys.fi
www.endometrioosiyhdistys.fi 


France 

Association EndoFrance 
17, allée des Eguerêts
F-95280 Jouy le Moutier 
FRANCE 
contact@endofrance.org
www.endofrance.org 


Germany 

Endometriose-Vereinigung Deutschland e.V.
Counselling centre Leipzig 
Bernhard-Göring-Str. 152 
04277 Leipzig 
GERMANY 
t:  +49 (0)341 3 06 53 04 
(Monday to Thursday 9-12 am, Thursday 1-6 pm)
info@endometriose-vereinigung.de 
www.endometriose-vereinigung.de 


India 

Endometriosis Society India
6A & 6F Needlamber 
28B Shakespeare Sarani 
Kolkata 700 017 
INDIA 
t:  +91 (0)33 2240 4463 /  +91 (0)33 2865 0364 
f: +91 (0)33 2281 1639 
mail@endosocindia.org
www.endosocindia.org 


Ireland 

Endometriosis Association of Ireland
Carmichael Centre 
North Brunswick Street 
Dublin 7 
IRELAND 
t:  +353 1 8735702
f: +353 1 8735737 
info@endo.ie
www.endo.ie 


Italy 

Associazione Italiana Endometriosi Onlus (AIE)
Casella Postale 114 
I-20014 Nerviano (MI) 
ITALY 
t/f: +39 0331 589800
info@endoassoc.it 
www.endoassoc.it 


Japan 

Japan Endometriosis Association (JEMA)
1-5-10-1012 Shimo-Ochiai
Shinjuku-ku 
Tokyo 168-0082 
JAPAN 
info-1@jemanet.org
www.jemanet.org 

Malta 

Endometriosis Support Malta 

E mail: endosupport@gmail.com 
Contact: Anita Portelli 

Our meetings are held at the 
Health Promotion Unit
37/39 Triq D' Argens
Msida
Malta Europe




Mexico 

Associación de Endometriosis Capitulo Mexicano
t:  +52 55 51 490468 
mexendometriosis@yahoo.com.mx
www.mexendometriosis.com 



The Netherlands 

Endometriose Stichting 
Antwoordnummer 1789 
2000 VC Haarlem 
THE NETHERLANDS
t:  +31 72 581 5320 
(Monday between 19.00 and 22.00 and Wednesday between 9.00 and 12.00)
f: +31 72 581 5207 
info@endometriose.nl 
www.endometriose.nl 


New Zealand 

Endometriosis New Zealand
PO Box 1673 
Christchurch 
NEW ZEALAND 
t:  +64 (0)3 379 7959 
Support Line: 0800 733277 (New Zealand callers only
www.nzendo.co.nz  email: info@nzendo.co.nz


Norway 

Endometrioseforeningen
Postboks 4391 Lura 
N-4301 Sandnes 
NORWAY 
endonorge@yahoo.com
www.endonorge.org 



Singapore 

Website: www.shineworldwide.com/seas.html 

EMAIL: seas@shineworldwide.com 

Contact No:  +65 8399 7942 Or  +65 6388 7731 (Singapore Time : 9am - 9pm) 

SHINE Endometriosis Association (S) - SEAS is the non-profit Support Group, dedicated to educating & supporting women & their families on Endometriosis & Menstrual Health. As a support group based in Singapore, we provide holistic approaches to helping women on this condition, by being constantly updated through collaboration with Endometriosis Organisations & support Groups, globally.
We're available for on-line & telephone support / help for women & their families in Asia & Globally. Constant activities are being organised to provide a communication platform for women in Singapore, which we look to expand throughout Asia. We commit to giving quality information on Women Health & Endometriosis! 
SEAS ... Conquering the Endo Dis-Ease! 


Spain 

Asociacion de Endometriosis Española (AEE)
Calle Mayor, 29
E - 17455 Caldes de Malavella 
SPAIN 
info@endoinfo.org
www.endoinfo.org 



Sweden 

Svenska Endometriosföreningen
Box 14087 
S-167 14 Bromma
SWEDEN 
info@endometriosforeningen.se
www.endometriosforeningen.se 

Föreningen EndoLiv 
Neglingev 45 
S-133 34 Saltsjöbaden
SWEDEN
info@endoliv.se
www.endoliv.se 


Switzerland 

Selbsthilfegruppe Endometriose Zürich
SWITZERLAND
info@endo-shg.ch 
www.endo-shg.ch 


United Kingdom 

National Endometriosis Society
50 Westminster Palace Gardens
Artillery Row
London SW1P 1RL 
UNITED KINGDOM 
t: +44 (0)20 7222 2781 
Freephone Helpline:  0808 808 2227
nes@endo.org.uk 
www.endo.org.uk 


United States 

Endometriosis Association
8585 N. 75 th Place 
Milwaukee , WI 53223 
USA 
t:  +1 414 355 2200
f: +1 414 355 6065 
endo@endometriosisassn.org
www.endometriosisassn.org 


Endometriosis Research Center
International Headquarters
630 Ibis Drive 
Delray Beach, FL 33444
USA
t:  +1 561 274 7442
f: +1 561 274 9117 
www.endocenter.org 
Mental health support
There is a support  group specifically for Endo and its impact on our mental health. 
https://www.facebook.com/groups/215876632543129